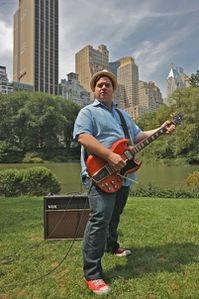 Name : John Lloyd Taylor
Nickname : J.T
Born : March 23, 1982
Occupations : Musician, Guitarist, vocals and musical director for the Jonas Brothers and Bulldozer band member.
Instruments : Guitar
John Taylor is a member of the Jonas Brothers since 2005. He's here since the beginning.
He has appears in several episodes of "Jonas Brothers : Living The Dream", he performed In the "Hannah Montana & Miley Cyrus : Best of Both Worlds Concert" and "Jonas Brothers : The 3D Concert Experience".

He also featured in "JONAS" in episode 5 "Band's Best Friend" as Joe's history teacher.
He also produces his own music, his songs are "Dreamdate", "Karen", "Engineers and Architects", "Waiting"…
You can listen them on his myspace : http://www.myspace.com/thedragonslayer
By Marie V