RUMOR : BIG ROB left the JB >> NOT TRUE!!!!
Rumor about Big Rob !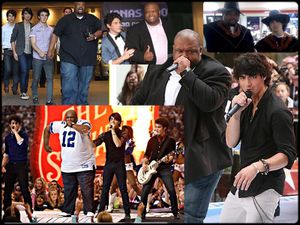 Robert Feggans aka Big Rob is one of the biggest & most famous bodyguards in the biz, and it seems his days working at protecting The Jonas Brothers might be coming to an end!!
Big Rob used to work as a bodyguard for Britney Spears before becoming a big star with Nick, Joe and Kevin, and according to a ZackTaylor.ca insider, he may be splitting ways with the boys in the near future!!
Our insider reports that the man we know as Big Rob has other BIG plans for his future...
"He wants to take some time off to relax and figure out what he wants to do. After [The Jonas Brothers] upcoming tour, we may see a lot less of Rob." Source : ZackTaylor.ca

RUMOR NOT TRUE !!!!

----------------------------------------------------------------------------------------------------------------------------------------------

Last week, Nick went with Nicole Anderson (Macy in Jonas) for a friendly dinner, in Toluca Lake, California.

New Camp Rock 2 poster >>>>>>>