Joe Jonas & Quddus On the Set of "Hot In Cleveland"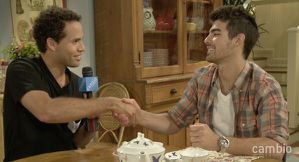 As we previously reported, Joe Jonas filmed an episode of TV Land's "Hot In Cleveland" this past weekend. Quddus had the chance to hang out on the set of the show with Joe, who will play Valerie Bertinelli's son "Will," that also stars the hilarious Betty White, Jane Leeves and Wendie Malick.

The episode will air on August 11. Be sure to stay tuned for Quddus' interview with Joe from the set! You won't want to miss it.
Source : Cambio.com