Joe & Demi on American Idol !
Last Night, Joe and Demi performed their new duet "Make A Wave" on American Idol.
Before the show, Joe and Demi were on Radio Disney to talk about the thrill of being on the American Idol Stage.
+ 170 photos of their perform >>>
HERE
Joe and Demi Perform :

Joe & Demi on Radio Disney
After American Idol, Joe & Demi talked to Ryan Seacrest exclusively!
They talk about their relashionship!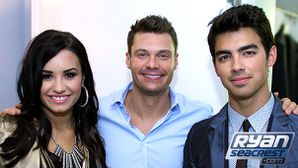 Joe said :
"We've been best friends for the longest time, and now we're taking the next step and it's been really fun"
"We've always figured that one day it would happen but we didn't feel like it was the right time."

Demi added :
"Being best friends for a while, over time feelings grow, and for me, as much as I wanted to deny it, the feelings were always there."
Watch video of Joe & Demi on Ryan Seacrest Interview!