Interview Joe chez Ryan Seacrest aujourd'hui :)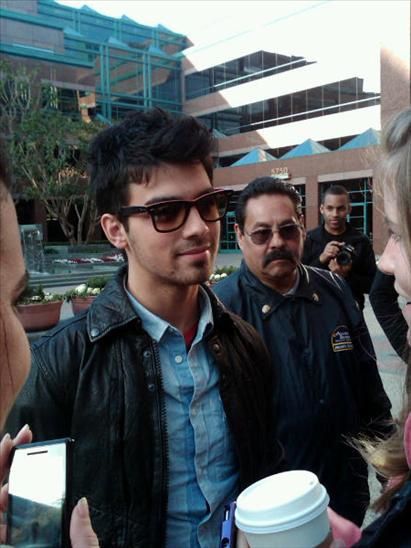 Joe a dit que leur tour commencerait probablement à la fin de l'été !! Ce qui, si cela se passe comme ça, en France nous les verrons pas avant Décembre vu qu'ils commenceront sûrement par les USA comme l'année dernière.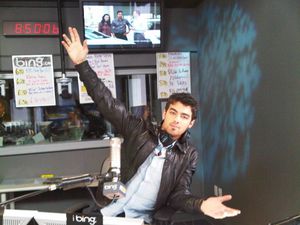 Joe a ensuite affirmé qu'il n'était pas chez Hilary Duff, comme a prétendu la presse depuis quelques jours! Ses parents habitent juste à côté et il sortait juste du garage lorsque les paparazzi l'ont pris en photo! :)
Voici l'interview :
"Joe Jonas has been talking about maybe going solo, Nick has the Administration and Kevin's too busy spoiling the wifey.
Does this mean the Jonas Brothers are never getting back together?
Kinda, but not really, but maybe...who knows?! The middle JoBro stopped by Ryan Seacrest's KIIS-FM radio show this morning, and that's about all we got out of him on that subject—though he seemed happy enough to talk about the Hilary Duff romance rumors...
"I think that's undecided," he told a concerned fan that called in. "I know a tour is in the works, and we're planning one right now. So we'll have one probably by the end of summer or something. We didn't have this year totally mapped out like the past few years, because we wanted to have a little break time to figure it all out. I think we will do a tour, for sure, as the Jonas Brothers, but then we'll see from there."
While everyone is trying to figure that out, Joe's playing it cool. He's been hanging out, writing some stuff with friends though he doesn't know, "whether it'll be another J.B. album or maybe like a side deal." He does know that it'll be honest because that's what Bono said to do, yeah that's right—Bono.
And he's also looking for a movie, but what kind?
"I'm always like 'whatever comes my way because I want to do all of it.' But there are so many superhero movies out right now, I think that could be kinda fun. I would love to be Spider-Man, that would be totally awesome."
The 20-year-old also confirmed his singledom and swore off marriage for another 10 years, though he was recently spotted sneaking out of Hilary's house. Of course, Joe had an explanation for that:
"My parents are her next door neighbors. I was leaving my parents garage, [photographers] must have been waiting for Hilary Duff. Their garages are right next to each other. So as I'm walking out, they take a picture of me, saying I'm leaving Hilary Duff's house. Nick was like 'I'm going to ruin this rumor for you' and I was like 'No, no let it ride for a while.' "
And that's what's up in JoBro Land. It's an uncertain future for them, but hopefully we'll all pull through this together. "
Source : E.Online!