HAPPY NEW YEAR !!!! And NEWS !!!! :)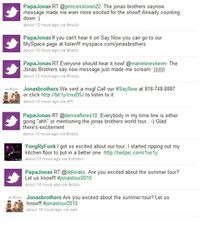 Tout d'abord, on vous souhaite une très bonne année 2010 !!!
NEWS :
Les Jonas viennent de poster un message sur leur myspace :
Hey everyone!

Once again, we come to the end of another year and stand overwhelmed with all that has happened AND everything that is coming in 2010. This has been a wonderful year filled with incredible opportunities and memories.

First we want to take a moment to look ahead to 2010. We are all so excited about everything we have lined up for the New Year. We really believe that this is going to be the busiest and best year ever for the Jonas Brothers.

The year starts on New Year's Day with the premiere of Nick's brand new video for WHO I AM on the Disney Channel. They will also show some scenes from Camp Rock 2. We are all so excited for you to see them both.



In 2010:


Nick Jonas and the Administration start their tour and his new CD, WHO I AM, will be released on February 2nd.
Joe will be a special Guest Judge on American Idol on January 26th . We will let you know if the date changes.
We start recording the 2nd season of JONAS for the Disney Channel at the beginning of February. We are really excited about the plans for the 2nd season.
Jonas Brothers - Living the Dream 2 will start airing in early 2010. This was recorded in Europe on our World Tour and they captured some amazing content.
We are scheduled to perform again for the Houston Rodeo. Last year was amazing.
We are not sure when Disney will air the new season of JONAS and Camp Rock 2. We will let you know as soon as we can.
We are in the beginning stages of planning our next World Tour 2010. We will let you know as soon as possible where we are going and what months we will be touring.
There will be more touring, more music, and more memories together throughout 2010.
We would not have these upcoming opportunities without you…OUR FANS. You make it possible. You are the best fans in the world.



Remembering 2009:



We started 2009 working on our TV show, JONAS. It was a new experience for us to work everyday on the set of a TV show. We were getting up early every morning and working until nighttime. It was hard work but so much fun, especially with our co-stars, Chelsea and Nicole.

The first thing we did on January 4th was schedule a show at the legendary Ryman Auditorium in Nashville, Tennessee. We invited some of our favorite artists from Nashville to join us on stage. It was one of our favorite shows of all time. We were on stage with our friends Jordin Sparks, Brad Paisley, Martina McBride, Michael W. Smith, Steven Curtis Chapman, Amy Grant, Vince Gill, Phil Vassar and others.

We were also excited about our nomination for a Grammy as Best New Artist. The Grammy Awards were one of the great thrills of our lives. We were able to perform with Stevie Wonder. We sang our song, Burnin' Up, and then sang Superstition together. It will forever be one of the great moments of our lives.

Performed at the Kids Inaugural for President Obama and his family and then performed for the first daughters in the White House.

Our 3D Concert Film became the #2 Concert Film of All Time (now #3 following Michel Jackson's new movie and the Hannah Montana 3D movie, which we were a part of as well)

Performed at the Houston Rodeo (we will be back again this year in March)

Trips to Latin and South America

Nick testified before a Senate committee about his Diabetes in order to raise awareness

Launched Fan Family Experience (over 100 million page visits immediately)

Won our 2nd Kids Choice Award for Group of the Year

Jonas Brothers World Tour becomes our biggest tour yet (over 1.4 Million tickets sold in 2009). Our first show was at the new Cowboys Stadium in Dallas.

Hosted Much Music Awards in Canada and won Best International Group

JONAS TV show debuts on Disney Channel.

Night at the Museum 2 debuted at #1. We played singing cherubs.

Our new CD (Lines, Vines, and Trying Times) debuted at #1 (our 2nd #1 CD)

Hosted and performed at the Teen Choice Awards.

Our little brother, Frankie, wins a Teen Choice Award for Breakout TV star and stars in the animated film PONYO. Go Frankie!

Filmed Camp Rock 2 in Toronto. It is so good. We are really proud of it and can't wait for you to see it.

Started our own Record Label with Hollywood Records and brought HONOR SOCIETY to the world. Their new CD debuted in the Top 20. Incredible as a new artist.

Joe's iWin run for the Special Olympics. Be on alert for more activities!

Our World tour not only took us all over the US but also Europe

2nd Rolling Stone cover

Nominated for Best Group at the European Music Awards

Meeting over 40 Make-A-Wish kids this year while on tour. Each day they touched our lives and we hope we put a smile on their face.

Meeting people with diabetes every day on tour

Performed again with Stevie Wonder at his annual Christmas charity event.

AND OF COURSE…Kevin gets engaged and married to Danielle!!!!

Thank you for making our dreams come true. We could not do this without you and all the support you show us.
We are excited to make more music and get back on tour in 2010 for our next JB World Tour. We cannot wait to see your faces again!

Thanks for everything!

You really are the BEST FANS IN THE WORLD.
JB
Kevin, Joe and Nick
A RETENIR :

La saison 2 de Living The Dream, a été tourné lors de leur World Tour 2009 en EUROPE !!!! Bonne nouvelle :)

Les Jonas confirment bien un World Tour 2010 dont ils sont déjà en train de voir les lieux où ils pourraient bien aller! Sachant qu'ils précisent, qu'il y aura plus de dates!!!
Sneek Peek de Camp Rock 2! Il a l'air drôle! Surtout avec Joe et le poulet mdr!

Pour finir en Beauté, voici un extrait du mariage émouvant de Kevin en vidéo !:)